The Chinese government has issued a draft plan for lithium-ion battery companies to curb manufacturing projects that only expand capacity.
Beijing aims to encourage lithium-ion battery and material manufacturers to strengthen technological innovation, improve product quality and reduce production costs, according to the country's Ministry of Industry and Information Technology (MIIT).
Battery companies will be prompted to manufacture electric vehicle (EV) and hybrid power batteries with an energy density of no less than 180Wh/kg, and energy storage batteries with an energy density above 145Wh/kg.
Battery cathode material manufacturers will be encouraged to produce lithium iron phosphate with specific capacities of no less than 150Ah/kg, and ternary material above 175Ah/kg. They will also be provided support to manufacturing lithium manganate with specific capacities of no less than 115Ah/kg.
Anode material manufacturers will be encouraged to produce graphite material with specific capacities above 335Ah/kg, while electrolyte producers will be provided support to produce electrolytes with a water content of no more than 20ppm, hydrogen fluoride content lower than 50ppm, and metal impurity content below 1ppm.
The draft plan has been published for public comment and is subject to change.
Chinese battery manufacturers have boosted production capacities in recent years to meet rapid growths in demand from the new energy vehicle (NEV) sector. 700GWh of new production projects were planned in the first half of this year, according to market participants.
The country's largest power battery producer CATL in August unveiled plans to build 137 GWh/yr of lithium-ion battery capacity by raising Yn58.2bn from the stock market for five projects in the regions of Fujian, Guangdong, and Jiangsu.
China's total output of power batteries rose to 159.8GWh during January-October, up by 250pc compared with the same period of last year, while installed volumes increased by 168.1pc to 107.5GWh over the same period, according to data from the China Automotive Manufacturers Association (CAAM). CATL, BYD, and China Aviation LB were the top three battery manufacturers for installed volumes during January-October at 54.5GWh, 17.9GWh, and 6.4GWh respectively, accounting for 50.7pc, 16.6pc, and 6pc of the total.
Global NEV sales are forecast to reach 17mn and 42.5mn in 2025 and 2030, up from 3.24mn in 2020. This will boost the installed volume of power batteries to 719GWh in 2025 and 1,797GWh in 2030, up from 137GWh in 2020, according to China's key battery material manufacturer Beijing Easpring Material Technology.
Prices for 99.5pc grade carbonate were assessed stable at 195,000-203,000 yuan/t ex-works today, after hitting record highs in early November driven by robust NEV and power battery growth.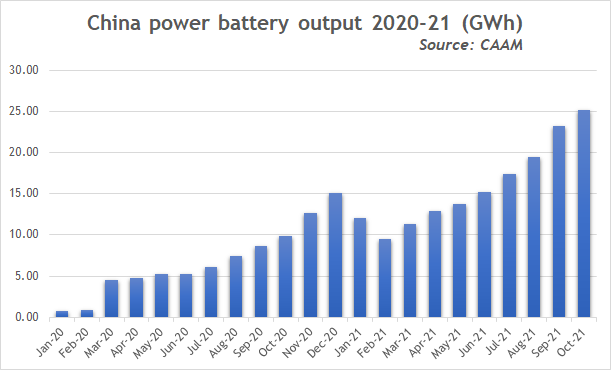 China's power battery production during 2020-21 GW